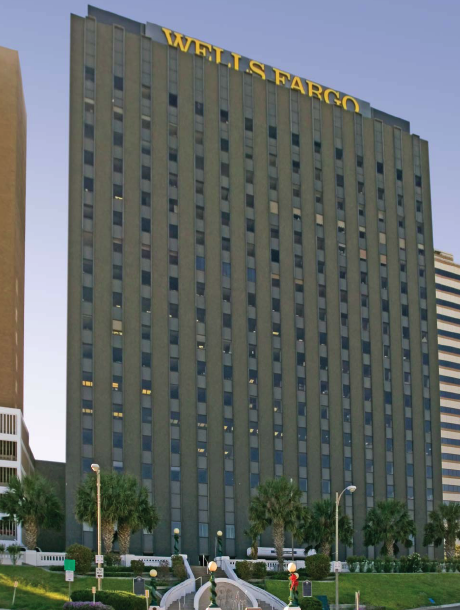 Wells Fargo Tower soars amongst a backdrop of the enticing Corpus Christi Bay, providing views of the hundreds of miles of unspoiled beaches that attract over six million tourists per year, making Corpus Christi the second most popular destination in Texas. The building's commanding location provides outstanding building and signage visibility to thousands of daily commuters and tourists.
Strategically situated on North Upper Broadway Wells Fargo Tower enjoys a premier location at the intersections of North Upper Broadway, North Carancahua and Antelope Streets. The high-rise has excellent access to the city's major thoroughfares, including Interstate 37, US 181 and the Crosstown Expressway. North Carancahua connects directly into, Interstate 37, the area's major north and south arterial, to the east of Wells Fargo Tower.
The beautifully landscaped landmark enjoys easy access to the expressway only hundreds of feet from its main plaza. Wells Fargo Tower is just minutes from the airport, the bay shore, the seaport as well as the area's many industrial, manufacturing and energy-related concerns.
Located in the heart of the Financial District (Uptown), Wells Fargo Tower is within walking distance of the County Courthouse, convention hotels, beaches, restaurants and retail. The Financial District continues to be home to the large financial institutions with the largest law firms, stockbrokers, independent oil companies and government entities enjoying the magnificent views of Corpus Christ Bay.
Demographic Data
| | | | |
| --- | --- | --- | --- |
| DEMOGRAPHIC | 1 MILE RADIUS | 3 MILE RADIUS | 5 MILE RADIUS |
| Avg. Household Income | $18,776 | $28,043 | $32,482 |
| Households | 1,819 | 18,390 | 38,687 |
| Population | 4,583 | 52,673 | 112,894 |
| | |
| --- | --- |
| Address: | 615 Upper N. Broadway |
| City: | Corpus Christi |
| State: | Texas |
| Zip Code: | 78476 |
Location Map